Cea mai populara gama de touchscreen-uri din gama OMRON, in permanenta aliniata la cele mai noi tehnologii. In fiecare an primeste noi functionalitati. Are port de programare pe USB, doua porturi de comunicatie RS232 si optional comunicatie prin Ethernet, cu web server incorporat. NS poate fi integrat in conceptul SAP de la OMRON (Smart Active Parts) pentru a economisi timp cu parametrizarea si programarea. Acest concept aduce functionalitate "drag and drop" la programare, astfel ca alocarea de biti intre touchscreen si PLC se face automat.
Claritate si procesare rapida
Lumina cu durata de viata foarte mare (pana la 75.000 de ore)
Suporta toate limbile europene, asiatice si chirilice
Slot pentru CompactFlash incorporat pentru salvarea istoricului
WebServer incorporat pentru modelele cu Ethernet
Touchscreen performant, scalabil, pentru cele mai pretentioase aplicatii
What is tag access with EtherNet/IP?
A tag is a name given to an address. Tags are managed in the CJ2 CPU Unit, where they are defined as network symbols. The common user-defined tag names are used from Programmable Terminals and host applications to access memory in a CJ2 CPU Unit without knowing the physical address.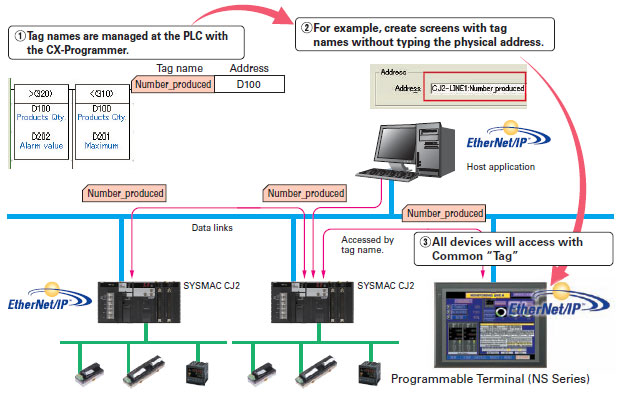 The PLC, PT, and host applications can be designed using tag names.
Parallel development shortens design time.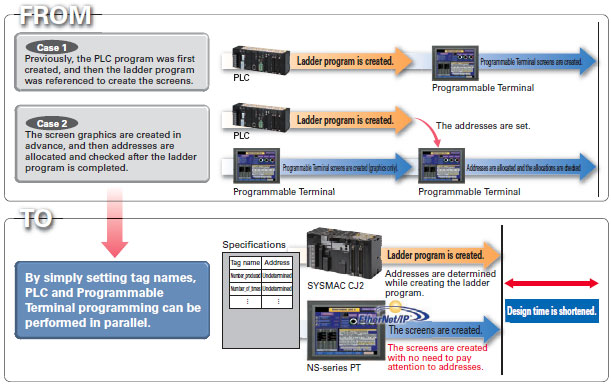 Minimize side effect of address changes.
So Machine Modifications Go Smoothly
Previously, a change in the address of one location affected a variety of devices and time was required to fix this range of changes and check operation. With the CJ2 CPU Units, it is possible to access memory with tags, so the PT and host application are not affected even if the address of data in the PLC is changed.
Greatly Improved Ladder Monitor.
Thoroughly focused on Visibility and Ease of Use.
Standard Feature (See note.)
Note:Not supported for the 5.7-inch model.
The Ladder Diagram can be fully displayed on the entire screen,
so it is easier to see and work.
The ability to change the color and size in which the Ladder Monitor is displayed greatly improves visibility.
The ladder diagram can be displayed on the entire screen (800 x 600 dots) even for the NS12 with a maximum display of 17 rows and 16 columns of a ladder diagram.
The ladder diagram is easy to see display in black and green.